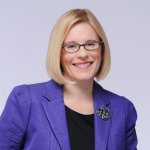 We have a world class judiciary, and a system of justice admired the world over. But 'access to justice' means that women need to trust that when something goes wrong, they will be heard and be able to access fair remedy – across everything from a serious sexual assault to knowing that your bank can't get away with ripping you off.
To be heard, we all want to believe that there is someone in authority who will understand us. It's hard to believe that if you're a woman, or BAME, if you look up and see an establishment of predominantly white men who will administer that system. Positively, things are changing – we have a fantastic female role model in Alison Saunders as our DPP, and increasing female representation across the legal and judicial profession. But we still have a very long way to go.
How has your leadership style been influenced by gender?
I've worked with some fantastic male and female leaders – and some atrocious ones too, of both genders. I don't believe that women or men are inherently better or worse leaders. I also find that teams work far better when they are mixed gender than predominantly male or female (as numerous scientific studies have now proven!).
I'm really not sure how my gender has influenced my style, although it undoubtedly has. But I just try and focus on being as good a leader as I can be, learning from all the role models I've seen, male and female.
Who or what inspires you most?
I've always been inspired by those who put their own lives behind fighting for what they think is right, whether suffragettes dying to secure the right of women to vote, Nelson Mandela risking his life, health and family to abolish apartheid, or Malala Yousafzai being shot just by asserting her right to go to school. Their sacrifices have changed the lives of millions.
What have you discovered during your career that you'd have liked to know as a student?
That the most important thing about being successful and happy in your life and career won't be your knowledge but your values. A job where you're doing something you don't believe in, or working for a boss whose values fundamentally clash with yours will leave you unhappy and unfulfilled. Work out what your values are, and find roles – and bosses – who respect them.
---
Join us on 19 March 2016 for our Annual Student Conference to hear Andrea Coomber, Director of JUSTICE, in conversation with Shami Chakrabarti, Director of Liberty. Sign up now.
Messages from our Director and Chair|Women and The Law|Rights of Women Legal Aid Case Note|Interview Collection