Page 3 - Reforming Benefits Decision-Making -(updated - August 2021)
P. 3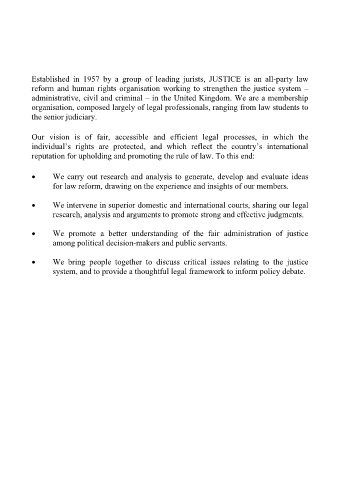 Established in  1957 by a  group of  leading  jurists, JUSTICE is an all-party law
          reform and human rights organisation working to strengthen the justice system –
          administrative, civil and criminal – in the United Kingdom. We are a membership
          organisation, composed largely of legal professionals, ranging from law students to
          the senior judiciary.

          Our vision  is of fair, accessible and efficient  legal processes, in which  the
          individual's rights are protected,  and which reflect the  country's international
          reputation for upholding and promoting the rule of law. To this end:


          •    We carry out research and analysis to generate, develop and evaluate ideas
               for law reform, drawing on the experience and insights of our members.

          •    We intervene in superior domestic and international courts, sharing our legal
               research, analysis and arguments to promote strong and effective judgments.

          •    We  promote  a  better  understanding  of  the  fair  administration  of  justice
               among political decision-makers and public servants.

          •    We bring people together to discuss critical  issues relating to the justice
               system, and to provide a thoughtful legal framework to inform policy debate.