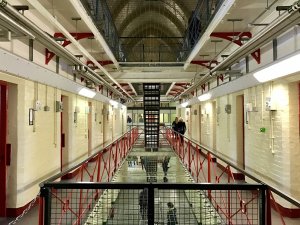 In April 2021, JUSTICE announced this Working Party, which will examine the role, powers, and procedures of the Parole Board & wider system.
The challenge
Those detained by the State must be afforded appropriate access to justice to enforce their rights. In particular, the decision-making body responsible for determining continued detention must be able to carry out this fundamental role fairly, independently and effectively. Despite this, the system has not benefited from a comprehensive, focused, and independent review by a group of experts in the field.

Backlogs and delays have plagued the parole system in recent years, which in turn delay someone's release. In particular, recalls of prisoners on licence have surged in the last decade, now making up 14% of the prison population. Moreover, the parole process can be particularly difficult to navigate and raises a multitude of human rights concerns around effective participation and procedural fairness. There is a clear disregard for how the process impacts on prisoners and their ability to participate in the process. Studies which have looked at prisoners' understanding and experience have indicated feelings of anxiety, powerlessness, voicelessness, frustration, disengagement and a deep sense of "irrational justice".
The Working Party 
This Working Party will examine the role, powers, and procedures of the Parole Board and the broader parole system of England and Wales. It will consider whether the Parole Board's decision-making processes are fit-for-purpose and fair. The review will place particular focus on groups overrepresented throughout the criminal justice system and those who face particular challenges in participating. It will make practical recommendations aiming to ensure that those involved in the parole process are not detained for longer than is necessary and lawful.

This Working Party shall take place alongside the Government's own 'Root and Branch Review' of the Parole System, which it announced in October 2020. The Working Party's findings shall be used to inform JUSTICE's own response to this consultation as it progresses.

The members of the Working Party are:
Professor Nicola Padfield QC (Hon), University of Cambridge (Chair)
Dr. Harry Annison, University of Southampton
Sir David Calvert-Smith QC, former Director of Public Prosecutions and Chair of the Parole Board
Marc Conway, Prisoner Engagement Co-ordinator, Prison Reform Trust
Simon Creighton, Founding Member and Consultant, Bhatt Murphy Solicitors
Ryan Herbert, Serving indeterminate sentence prisoner and current criminal justice postgraduate
Dr. Laura Janes, Legal Director, Howard League for Penal Reform
Chitra Karve, Panel Chair, Parole Board
Shkar Kider, Solicitor, Kesar & Co Solicitors
Dean Kingham, Head of Prison Law, Swain & Co Solicitors
Sir David Latham QC, former Lord Justice of Appeal and Chair of the Parole Board
HH Daniel Pearce-Higgins QC, former Circuit Judge, Legal Member of the Mental Health Review Tribunal
HH John Samuels QC, former judicial member, Parole Board
Deirdre Smythe, Barrister, Clerksroom Chambers
Karen Walton, Barrister, Drystone Chambers
Rapporteur: Tyrone Steele, Criminal Lawyer, JUSTICE, assisted by Siven Watt, Senior Legal Fellow, JUSTICE

We are grateful to Hogan Lovells for generously supporting this Working Party.