Sir Christopher Greenwood GBE CMG QC delivered our Annual Tom Sargant Memorial Lecture on the topic of 'International Law and Justice'. Sir Christopher gave a spirited defence of international law's achievements and impact, in cases that involve human rights both explicitly and implicitly. For example, Sir Christopher observed that maritime boundary cases litigated in the international arena, may have a profound effect on the lives of thousands.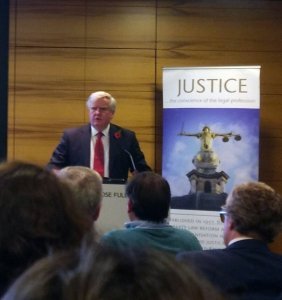 Sir Christopher gave a nuanced portrait of an international community – one that is rapidly expanding to include NGOs, corporations and individuals, but in which nation states remain solely responsible for the formulation of law. Sir Christopher explained that inter-state tensions give rise to an extremely challenging environment for the just resolution of disputes. U.S.-Iran diplomatic relations provide a compelling example and an ongoing concern.
Nonetheless, international courts have been able to award substantial settlements and secure custodial sentences – "a major victory". Such a situation is only possible, Sir Christopher argued, if nation states accept a court's authority: a persuasive reason for judges not to embrace an unduly expansive interpretation of their jurisdiction when delivering judgment.
Sir Christopher concluded by considering solutions to some of the inefficiencies and imbalances that have hampered international law processes, briefly considering the introduction of limitation periods as well as the need for strengthened due process in the international criminal context. We would like to thank Sir Christopher for a fascinating and wide-ranging lecture.